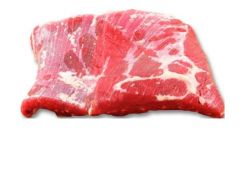 Top of the Rib
App. $17.98 per package.
Price per Lb.: $8.99
Approximate weight per package: 2 Lb.
Description
Tevya's Ranch - All natural, no antibiotics & no hormones.
A flat, lean roast that can be used as a brisket substitute. Long, moist cooking will render it tender and savory. The leftovers are almost the best part - we like to pile thin slices on a sandwich roll with sweet pickles or chutney.