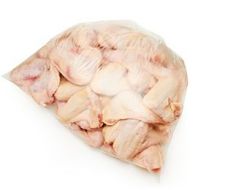 Chicken wings - bulk bag
App. $11.95 per package.
Price per Lb.: $2.39
Approximate weight per package: 5 Lb.
Description
For people who love crispy chicken and sweet juicy meat, the wing is the thing. Frying brings out all the crispiness of the skin. Great for kids or entertaining - nobody we know stops eating after munching one wing.
?
Each bag weighs approximately 10 lbs